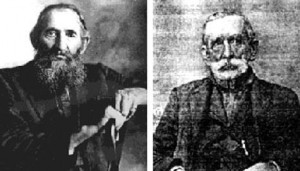 On the right, Randolph McCoy, whose brother Harmon's death was blamed on Jim Vance, the uncle of the man on the left, Devil Anse Hatfield. Their feud, at the end of the 19th century, in the back country of West Virginia and Kentucky, though lasting only13 years, entered American folklore as an example of over the top, irrational infighting. The feud was fueled by the Hatfields fighting for the Confederacy and the McCoy's for the Union; by the matter of a stolen pig; and by star-crossed lovers from the two families whose affair ended badly.
The feud may have inspired chapter XIX in "Huckleberry Finn," in which Huckleberry falls in with the Grangerford family who are engaged in a 30-year blood feud with the Sheperdsons.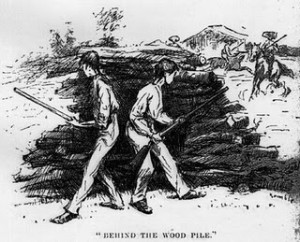 The chapter feels endless, irritating the reader and thus perhaps driving home the irrationality of circular revenge killing. As the Hatfield and McCoy feud took place between 1878 and 1896, and Twain published his novel in 1884, it is possible that the feuding Appalachians found their way into a great American novel. Is this believed to be the case by people in the field?
A recent discovery may shed light on the famous feud: an inherited disease, Von Hippel disease, runs in the McCoy line and predisposes the sufferers to shortness of temper and impulsivity.
But short of a genetic proclivity, why are some conflicts taken up by whole families and carried on for generations (like the Montagues and Capulets)?