Great films about Art: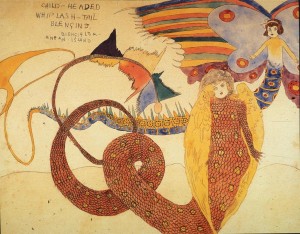 In the Realm of the Unreal: a fabulous film about the outsider artist and janitor Henry Darger, made by Jessica Yu in 2005. The film is not only cinematically ingenious in how it relates the artist's strange and moving story but it also offers insight into the source and mechanism of artistic creation.
How to Draw a Bunny: wonderful film about the enigmatic and fascinating Ray Johnson, the most famous artist you've never heard of, by John Walter in 2002.
Wasteland: thrilling and moving film about the Brazilian conceptual artist Vik Muniz and his project in the largest landfill in San Paolo. Best Documentary Academy award nominee for 2010 by Lucy Walk.
Herb and Dorothy: fascinating film about a middle class couple who devote themselves entirely to art collecting, amassing a museum-quality collection, made in 2008 by Megumi Sasaki.
Exit Through the Gift Shop: interesting film by street artist Banksy about an obsessed art groupie who tries to pass himself off as a street artist himself and gets quite far on nothing, 2010.
Chuck Close: A Portrait in Process: compelling, short film about Close as he completes a self-portrait after the paralyzing stroke that interrupted but did not halt his brilliant painting, by Marion Cajori, 2000.
Maya Lin: A Strong Clear Vision: 1994 documentary about the versatile artist most famous for the Vietnam Memorial, 1994 by Freida Lee Mock.
Alice Neel: wonderful film about the great portrait painter by her grandson, Andrew Neel, 2007, fascinating from the psychological as well as artistic perspective.
Jean-Michel Basquiat: Radiant Child: Tamra Davis's 1996 romantic account of the meteoric rise and subsequent self-destruction of the precocious painter.
Andy Goldsworthy: River of Tides: excellent documentary about the earth-work artist whose real subject is time, by Thomas Riedelsheimer, 2001.
Gerhard Richter Painting: insightful film about the great painter and about the painting process in general, by Corinna Belz in 2007.
Ai Weiwei: Never Sorry:  Fascinating film about the Chinese artist/activist. An amazing individual, who uses social media as part of his process. By Alison Klapman, 2012.
topics: art