Daniel Mendelsholm's "The Lost: A Search for Six of the Six Million," is particularly wonderful on the subject of personal relics. It traces a quest the author begins when he inherits from a special great-uncle an ostrich skin portfolio, which this rather natty dresser always slipped into his inside jacket pocket before leaving his bedroom each morning. Mendelsholm had always assumed it held money, but when he opens the portfolio he discovers letters from the uncle's brother, a man who had returned to Poland after succeeding in the States and then found himself trapped in the Holocaust. In the letters he begs for help to save his four daughters, his wife and himself; but all efforts failed and the six were lost.
Mendelsholm, who never before had any interest in this part of his family's history, is suddenly driven to learn what he can about these six people, most of whose names he doesn't even know, in an attempt to rescue them at least from anonymity. Told almost as a mystery story, the book follows the author's struggles to uncover the truth but is also a rumination on temps perdu, an aspect of the book I found particularly resonant, having become preoccupied with the slipping away of my life.  One of my favorite books of recent years.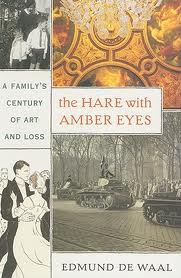 Another wonderful, more recent book that is similarly constructed around an inherited family relic is "The Hare with Amber Eyes" by Edmund de Waal. Also a true story, this book tells the story of a collection of precious netsukes—tiny Japanese sculptures—that de Waal inherits from his favorite uncle. Tracing the path of the collection from the original collector on, de Waal uncovers a fascinating family history that the lives of his fabulously wealthy Jewish ancestors in 19th century Paris and later in Vienna, where everything was lost to the Nazis, except the netsukes. The history is spell-binding, but equally stirring is the Proustian exploration of a lost world waiting to be discovered within a set of tiny objects.
Despite the apparent similarity of the two books, they are very different.  But if you like one, you will probably like the other.