There are many great films that feature train stations or great train scenes (Brief Encounter, High Noon, North By Northwest, Some Like it Hot) but the list will be too long. I limit myself to movies that largely take place on trains or are about them.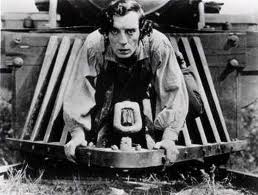 The General, Buster Keaton's great masterpiece of 1926 may still be the greatest train movie of all times.
La Bete Humaine, is Jean Renoir's contribution to the list. Based on an Emile Zola novel, it continues the theme of men who love their trains as much as their women.
Trains make a wonderful setting for a mystery, being a closed world in which all the suspects are hidden in plain sight. Among the best train mysteries:
The Lady Vanishes, 1938, a delicious comic-thriller by Alfred Hitchcock.
Hitchcock's Strangers on a Train, 1951, a thriller rather than a mystery but still marvelous.
Murder on the Orient Express, 1974, Sidney Lumet's wonderful depiction of the Hercule Poirot novel, stars Albert Finney as Poirot with Lauren Bacall and Ingrid Bergman
Other great train films include:
3:10 to Yuma, both the 1959 Delmer Daves film, staring Glen Ford, and the 2007 remake by James Mangold, starring Russel Crowe. The former is more psychologically interesting, the latter more exciting and action-packed. Seeing both and comparing them is a lot of fun.
Central Station, 1998, an extraordinary Brazilian film by Walter Salles about the journey, emotional and literal, of a woman who writes letters for the illiterate.
Before Sunrise, my vote for the most romantic movie ever made, by Richard Linklater, starring Julie Delpy and Ethan Hawke. Nine years later the director made a follow-up with the same actors, Before Sunset. Also wonderful but no trains.