In the summer  of 2011, The Museum of Art and Design in New York mounted an exhibit of small-world constructions by a number of artists. Entitled, Otherworldly: Optical Delusions and Small Realities, the exhibit was, among things, terrific fun. The museum described the work as: "worlds of "magic realism" conceived and realized through intense engagement with materials, attention to detail, and concern for meaningful content. In this exhibition, the works are presented as dioramas, models, snow globes, and site specific installations, as well as through photographs and video."
Among my favorite works were those by Patrick Jacobs,
who creates tiny dioramas with exceptional depth of space. This is his Fairy Ring Mushroom Cluster, viewed through a 2″ window.
Peter Feigenbaum builds small constructions of decaying city streets which he then photographs outdoors, in the street, so that the scale of the two worlds collide, though it may not be immediately obvious.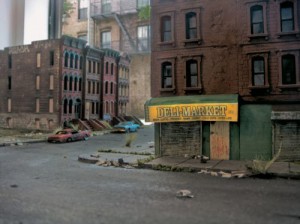 Walter Martin and Paloma Munoz create tiny, often slightly macabre scenes within snow globes.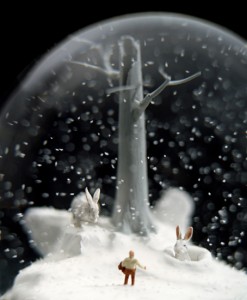 topics: art