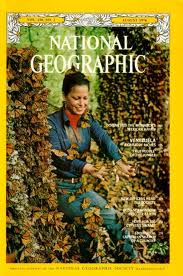 Visiting:
The wintering over site at Angangueo is open from November to March, but the highest density of Monarchs can be seen in December and January.
It is now possible to stay in Angangueo, if you are traveling by private car, tripadvisor has advice.
Alternatively, complete 9-hour tours can be arranged from Morelia: see link.
History of site's discovery: Dr. Fred Urquhart, after decades of tagging hundreds of thousands of monarchs with hundreds of volunteers, announced his discovery in the 1967 August issue of National Geographic. For a short biography of Urquhart: see link.
Have you visited Angangueo recently? Do you have recommendations to make? Questions to ask?
topics: nature